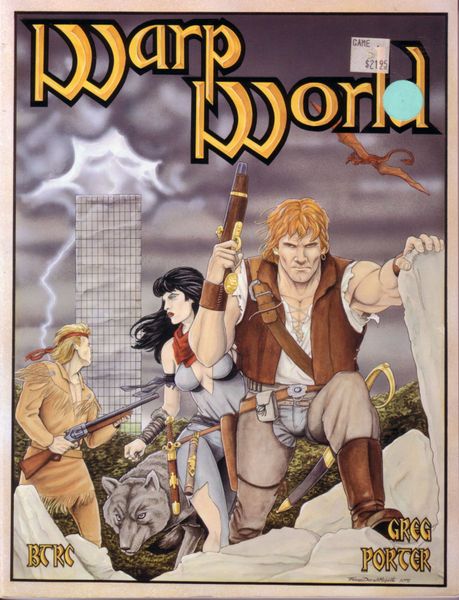 Somewhere in my strange and voluminous files, I have a folder with notes for a science fantasy setting, a post-apocalyptic Earth where magic now worked because reasons, and that was the tag-line. I think I called it Warp World, but that name has long been trademarked by others.
As early as 1991 there was a published game of that name with a similar premise. So it goes.
But I want to move on to real life. Much like my divorce, I am projecting that the only thing that will remain the same about the basic facts of my life in the near to mid-term is my day job.
In short, Cheryl is moving to Phoenix, and I am moving in with her. To be clear: she is buying the house with proceeds from selling her house in Las Vegas, which has a comparably hot real-estate market. So financially, it will be a lateral move for her. Her mother, who co-owns that house, is also part of that financing. I am not. I will just reside there. The legalities of this are both private and, trust me, boring.
I burned some vacation over the holidays, and we spent a lot of it packing and storing the accumulated crap possessions that have gathered over the past decade plus in her 3000' + residence. Some of that is UnObtanium inventory, which will finally be unified with my portion of that inventory on the same property somewhere close and sometime soon.
There were some practical lessons learned:
A hand-truck totally pays for itself when you are moving big piles of boxes from point A to point B. Yes, $120 or so at the hardware store for the good one. Worth It.
You can buy a roof rack at Harbor Freight ($320) that will sort-of clamp on to any pick-up truck, and therefore sort-of clamped onto mine.
Installing a roof-rack that sort-of fits your truck is where you realize how real the disparity is between Cheryl's collection of household tools and my bags and boxes of accumulated rigging tools. But we now own a set of large size metric sockets, which I am not certain I had anyway. (US theatrical rigging is almost all SAE).
I do not miss beating the crap out of my hands on a daily basis.
I used the roof rack to transport the UnObtanium tent, thereby keeping it out of Rattletrap, because I otherwise filled that trailer with UB inventory.
The bell tent turns out to be 6 meters, not 5, so the pole I had imported from China is too small. That's a $260 mistake that will require a $320 fix, because…
We also spent about $200 on garment bags which should both protect the clothes and speed up install and strike.
Having all the inventory at the same address will mean not only can we load and unload easier for shows, but we realistically sell things on-line as well. Between us, Cheryl and I have enough antiques to stock a small shop – at least for a few months.
So we might have a consignment booth as well. But that, like many of our life's details, depends upon where we end up.
If anything is possible, then nothing is certain.